Join the Ivanhoe Neighborhood Council
We invite Ivanhoe residents and non-residents alike to become members of the Ivanhoe Neighborhood Council. Membership is open to all residents, representatives of civic and business groups, private agencies, schools, church organizations, government agencies, and anyone interested in improving or enhancing the Ivanhoe neighborhood.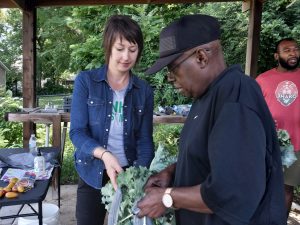 As a member, you can vote on any matter brought before the Council. You get the chance to have your voice heard and to make decisions that contribute to our mission to enhance the quality of life for all of Ivanhoe's residents and stakeholders.
Your membership grants you the privilege of voting during Board member elections, allowing you to elect leaders who share your vision and commitment to bettering the Ivanhoe neighborhood for all. INC also encourages members and non-members to join our committees. As a committee member, you play a key role in implementing Ivanhoe's Strategic Plan and ensuring that residents' visions for the neighborhood come to life.
Our current committees are:
Philanthropy & Fundraising
Communications & Marketing
Housing, Economic Development, & Jobs
Crime, Safety, & Beautification
And best of all, INC members have the satisfaction of making a direct positive impact on the Ivanhoe neighborhood. By attending meetings and participating in council events, you get to connect with the residents and partner with them to build on Ivanhoe's legacy as a constantly improving neighborhood that puts unity, collaboration, and equity first.
Block Connectors are neighborhood leaders working to make their communities safe and livable places to live, work, and play. By becoming a Block Connector, you can build and strengthen partnerships with neighbors, crime prevention organizations, neighborhood associations, and the police department.
Sign up to Become a Block Connector